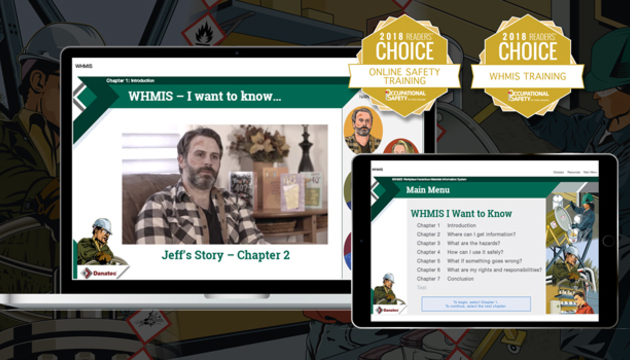 WHMIS (GHS) Training Online
Description
Danatec's award-winning, industry-recognized WHMIS online training course is for initial or re-certification training. This course meets all of Health Canada's training requirements under the Hazardous Products Regulations for all persons involved in handling workplace chemicals.
Danatec's WHMIS online course (formerly known as WHMIS 2015) centers around 5 WHMIS stories that bring in real-life events, told by real people in real workplaces. The video, animations, engaging games, and skill-building exercises will make for an engaging interactive learning experience. Our course centers on elements that ensure the information is understood, retained, and easily resourced.
A final exam to complete the course and a printable certificate along with a shareable Digital Badge are issued upon completion. Free printable resources are included such as our WHMIS sample label, poster, sample SDS, glossary, and a workplace exercise sheet for additional training.
Course Features:
Industry recognized, printable WHMIS certificate
Live support Monday-Friday, 7 am to 5 pm MST
Interesting and engaging learning content created by industry experts
Same day certification, begin your training in minutes
Stop and go at your convenience
Printable resources for easy reference and use
Mobile/Tablet compatible
Easily accessible – we store a record of your training that can be shared if needed for auditing purposes or proof of certification
Shareable Digital Badge
Buying training for your company? Ask about our customizable WHMIS certificates, exams, and worksite specific content built to meet your requirements. Please email sales@danatec.com.
Have a WHMIS question? Speak to one of our safety expert free of charge, call us toll-free at 1-800-465-3366
Frequently Bought Together:
WHMIS Handbook - $8.95 - The new 60-page WHMIS Handbook is an excellent tool for every employee who works around hazardous materials and covers the major concepts of chemical safety. <<Learn More >> Also available as an iOS or Android app.
Course Outline
What is WHMIS?
WHMIS Hazards Groups
WHMIS SDS
WHMIS Symbols & Labels
Personal Protective Equipment (PPE)
What to do if something goes wrong? Emergency actions
Special situations
Course Details
Length:
1 hour and 30 minutes