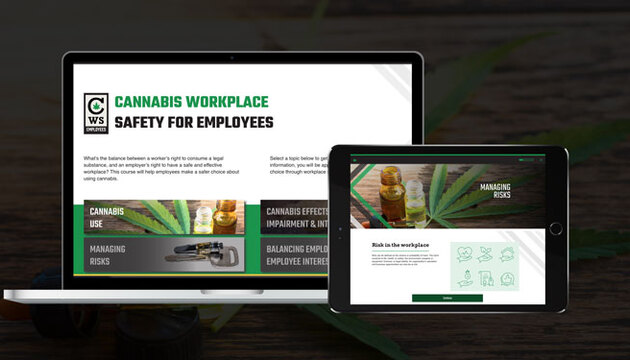 Cannabis Workplace Safety for Employees
Description
Cut Through the Confusion on Cannabis at Work
Protect your workplace with training on employee rights, responsibilities and the risks
Cannabis safety awareness at work can't be assumed. It's the employer's responsibility to make sure every employee understands what cannabis legalization means for them at work.
But developing employee cannabis safety education they'll remember and use isn't easy. Now, you can save time, money and fast-track to organization-wide cannabis awareness.
This online training will help employees understand the safety rationale behind workplace cannabis policies — so they make the right choices when it matters.
We've made learning cannabis safety easier and more engaging for all staff with relatable, scenario-based learning that engages critical thinking and makes the key concepts more memorable. These online modules are:
Interactive
Visual
User-friendly
Clear
Memorable
Self-paced
Time-effective
On-demand
Mobile-friendly
After completing the Employee training, the learner will be able to:
Describe cannabis and its effects
Describe short, medium, and long-term impairment
Explain the difference between impairment and intoxication
Describe the difference between risk management and impairment management
Recognize employers' duty to accommodate
Recognize employees' duty to be fit for work
Match common mistakes about cannabis consumption with example
Match common examples of cannabis consumption with consequences
Identify the safer choice in a given scenario about cannabis consumption.
This course is a prerequisite for the Employer Cannabis in the Workplace online training.
NEW! THIS COURSE IS ALSO AVAILABLE IN FRENCH - CLICK
HERE
.
Course Outline
In this course, employees will learn about:
Cannabis and its effects
Employer and employee responsibilities
How to manage risks and make safe choices