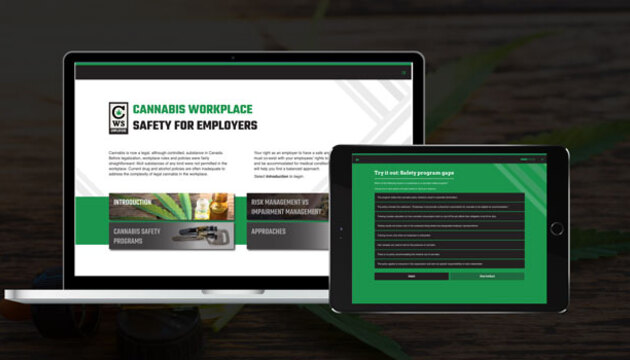 Cannabis Workplace Safety for Employers
Description
Feel Confident Creating Cannabis Policies at Work
Learn how to manage cannabis legalization safety at your workplace
With cannabis legalization in Canada, workplace rules are due for a change. Previous policies on illicit substances often no longer apply — and that creates risks.
Your right as an employer to have a safe and effective workplace must now co-exist with your employees' rights to consume cannabis legally and be accommodated for medical conditions.
Where do you draw the line? What do you need to know to update substance use policies and create cannabis safety programs that work?
Now, you can fast-track the process through online training that's:
Interactive
Engaging
Visual
User-friendly
Clear
Memorable
Self-paced
Time-effective
On-demand
Mobile-friendly
To take this course, learners must first complete the foundational Employee Cannabis in the Workplace online training.
After completing the Employer training, the learner will be able to:
Distinguish between risk management and impairment management
Explain why the language of impairment is ineffective in safely adapting to the legalization of cannabis
Differentiate between effective and ineffective approaches to employees' consumption of cannabis
Recognize that differences exist among federal, provincial, and local legislation/regulation regarding cannabis consumption
Recognize the most common deficits in safety programs regarding cannabis
Assess employers' safety programs regarding cannabis against best practices
Access resources to address gaps in employers' safety programs
Identify the most effective choice in a given scenario about employees' cannabis use.
NEW! THIS COURSE IS ALSO AVAILABLE IN FRENCH - CLICK
HERE
.
Course Outline
In this course, HR staff, managers and employers will learn about:
Risk management and impairment management
Federal, provincial, and local cannabis legislation/regulations
Common gaps in cannabis safety programs
Assessing and improving cannabis safety programs
Making the best choices around safe employee cannabis use