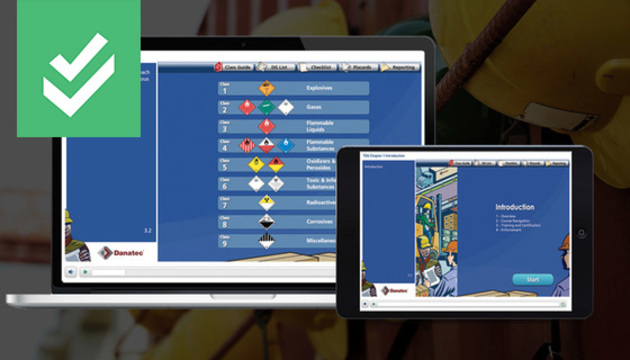 TDG Online Training – LearnerVerified™
Description
Safety Training Built by Safety Experts.
Danatec's award winning, industry recognized Transportation of Dangerous Goods (TDG) online training courses is for initial or re-certification training. Our continually updated, current TDG course meets all of Transport Canada's training requirements under the TDG Regulations, for all persons involved in the Transportation of Dangerous Goods by ground.
Our course is ideal for shippers, receivers and drivers. It contains interactive elements such as video, animations, engaging games and skill building exercises which will engage the adult learner and make for an interesting and educational learning experience. Our courses focus on elements that ensure the information is understood, retained and easily resourced.
A final exam to complete the course and a printable certificate along with a Digital Badge is issued upon completion. Free printable resources are included such as our TDG class guide, placarding guide, emergency reporting documents and phone numbers. TDG certification is valid for 3 years upon completion and is non-transferable.
Course Features:
Industry recognized, printable TDG certificate
Live support Monday to Friday, 8am to 5pm MST
Interesting and engaging learning content created by industry experts
Same day certification, begin your training in minutes
Start and stop at your convenience
Printable resources for easy reference and use
Mobile/Tablet compatible
Easily accessible, stored record of training that can be shared if needed for auditing purposes or proof of certification
Buying training for your company? Ask about our customizable TDG certificates, exams and worksite specific content built to meet your requirements.
Have a TDG questions? Speak to one of our safety experts, free of charge, call us toll free at 1-800-465-3366.
Course Outline
An overview of TDG Requirements and Regulations
Responsibilities of Shippers, handlers and carriers
Nine classes of Dangerous Goods
Shipping Documentation
Placards, Labels and Safety Marks
Different means of containment
Special Situations
Emergency Response Plans (ERAP) and actions